Pin It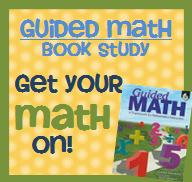 Small Group Instruction
I felt the parallels drawn between guided reading and guided math instruction were extremely helpful in this chapter. It validated what I have been attempting in my classroom for the past few years. As I have tried to incorporate small group instruction in math, I have based most of my thinking about what it should look like from my experiences with guided reading.
I have discovered that my guided math groups need to be even more flexible than my guided reading groups. Just because a students who struggle with "the big idea" in geometry doesn't mean they will struggle with place value. In order for my small group instruction to be effective my grouping of students have to be based on ongoing observation and formal/informal assessments. Flexibility in grouping my students has been the key to really differentiating math instruction in my classroom.
So here is my thinking. First, I want it to be really easy to change my groups around so each child will have their photo with a piece of Velcro on the back to attach it to the board. Then changing my groups will be a snap! Secondly, six would be the most kids I would want to have in a group. Depending on the needs of my students, I can add or subtract groups and adjust the size of the group. I also want to be able to change task cards around depending on how often I need to meet with a particular group of students.