Pin It
I am late linking up with this amazing book study for Chapter Four due to a series of most unfortunate events...This past weekend I wrecked my car, our sprinkler system broke and flooded our neighbor's newly finished basement, and our air conditioner literally blew up! Needless to say I haven't had a lot of time for blogging:) While it wasn't my favorite weekend ever,
I have so much to be grateful for this morning. I am so glad no one was hurt when I wrecked my car. I have the most wonderful,understanding neighbors anyone could ask for, a husband who can fix anything, and auto insurance.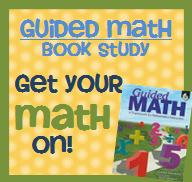 I couldn't agree more with Laney Sammons on page 106:
Before discarding methods entirely in our efforts to improve our instruction, we should evaluate their effectiveness in a variety of contexts.
While whole-class instruction may not be the most effective approach for all lessons, it can be used quite effectively for some instructional purposes.


I graduated and started teaching first grade in the early 90's. After I had my second child, I decided to take a break from teaching and stay home to play with my babies. Five kids and 12 years later I came back to find that what had once been best teaching practices, were far out of date with current research. The past four years have been an exciting time for me as I have taken what I know to work from past experience, and meshed it with what research is showing to be the most effective teaching methods now. What I have learned from this experience is that I have to trust myself, and do what is best for kids.
I have always loved reading and discussing math related literature with my whole class. Here are some of my favorites:
money
G