Pin It
Deedee Wills
has updated her list of books suggestions for chapters 1-7.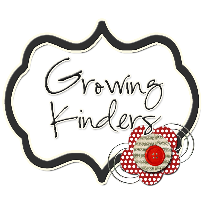 Kathleen at Growing Kinders is hosting Chapter 8
It's all in the details!!!
Technique 13:Crafting Details of Expression and Gesture
Katie Wood Ray suggests, "The key for teaching is to bring the natural noticing children do as they people-watch in books to a very conscious level." Katie talks about noticing the decisions the author/illustrator makes. She points out, "That details of expression and gesture always communicate something important about a characters experience, both in illustrating and writing."
This amazing book by Audrey and Don Wood is always a favorite with my students.
It is the story of an eccentric king who wants to spend the day lounging in his bathtub. The queen, along with the rest of the royal court tries unsuccessfully to get the good king out of the tub.
This book is full of so much beautiful detail.
I love the facial expressions and the body language of the queen and her royal subjects.
The king is my favorite!! He finds so much joy in each of his "bathtub adventures."
The illustrations while the good king is in the bathtub are great examples of Technique 16: Crafting Details from the World of Nature and Technique 18: Crafting Details from the World of People
Another favorite by Don and Audrey Wood is this fun story of a little mouse who is determined to save his strawberry from the big hungry bear. The gestures and facial expressions on this mouse tell much of
the story.
Technique 20: Creating the Illusion of Motion with Detail
When teaching students about this illustration technique Katie Wood Ray suggests, "Children probably won't need lots of time and talk to understand why illustrators show motion because the reasons are fairly obvious. You'll want to focus your teaching attention the the repertoire of techniques you ind for creating the illusion of motion."
In this fun book by Frank and Devin Ash, the illusion of movement is created as everything flies through the air.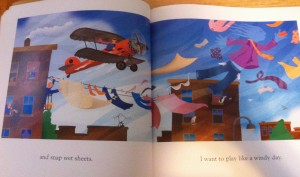 It is easy for children to see the results of the wind as it carries everything up, up, and away.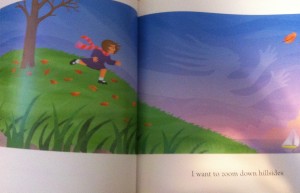 I love how the little girls scarf is flying out behind her as she runs down the hill.
This is the story of a baby kangaroo who is trying to learn to jump. She tries over and over again, encouraged by a variety of animals and her patient mom.
Movement lines and repeated drawings of the mama kangaroo give the illusion of movement. I can also see the use of Technique 21:Creating the Illusion of Sound with Details as little Kangaroo claps.
The dust kicking up gives the illusion of movement as she falls.
My book wish list is getting very long.
I can't wait to add to it with your great suggestions for chapter 8!!