Pin It
I love finding a book that not only validates the the things I am doing in my classroom, but one that also challenges me to do it better.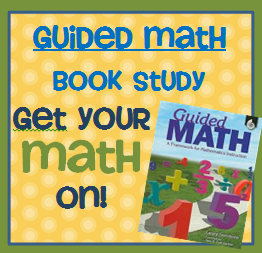 As I look over the Foundational Principles of Guided Math I feel like there are a couple of areas that I could make some improvements in my classroom.
The first is in the area of "a numeracy-rich environment".
I fear my classroom falls into the category of "literacy rich, with some signs of mathematic instruction being evident". I have math manipulatives, math books, a calendar board…but what I want to create in my classroom is what Laney Sammons describes as "mathematically rich classroom environment".
Here are a few of the goals I believe will help me create this kind of environment:
Math Journals: Last year I got my students more involved in our calendar time, by having them fill out a calendar page each day as we went through our calendar board. My students were much more engaged and I felt like my calendar time was more beneficial. This year I would like to incorporate the use of a math journal. Based on the information from this chapter, I think I will include a section for vocabulary, calendar, problem solving, and resource section that would include graphic organizers and charts to help students organize their thinking.
Anchor Charts: Miller (2002) "Anchor charts make our thinking permanent and visible , and so allow us to make connections from one strategy to another, clarify a point, build on earlier learning, and simply remember a specific lesson".
When I walk into my classroom, everywhere I look I see anchor charts for reading and writing. My students know that literacy is important in our classroom. I want it to be the same feeling for math. I am going to work hard to make our math learning more visible by using anchor charts and a math word wall. I think it is important that these charts have to "be created in the classroom with student participation".
The second area I want to focus on duri
ng this next year is "building and maintaining a mathematical learning community".
Expectations: I agree so strongly with the statement of page 38 of this book, "When a teacher has high expectations for all students, struggling students tend to live up to expectations and other students' perceptions of them reflect those expectations." I know that when we work together as a community of learners, we become more confident in our ability to organize our thinking, talk about our thinking, listen and learn from our peers, and use appropriate math vocabulary to discuss our ideas.
Math Books by Student Authors: I have always made class and individual books relating to our study of literacy. I have not however, done a great job of encouraging my students to write math-related books. I am excited to have my students write about math ideas. What a great way to bring our study of math into our writing workshop.
I would really love to hear your ideas of incorporating a math journal and student authored math books into your classroom.